My Left Foot: The Story of Christy Brown (1989)
A film about life, laughter, and the occasional miracle.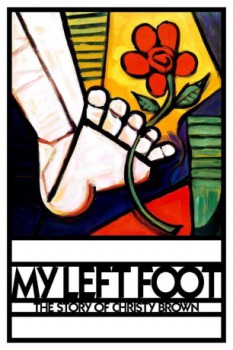 Evaluation TMDb :










7.6/10 (616 votes)
Pays :IE, 1hr 43min
Langues :Anglais
Genre(s) :Drame
Réalisateur(s) :Jim Sheridan
Codec vidéo :Unknown
Numéro : 131
Synopsis :
In this true story told through flashbacks, Christy Brown is born with crippling cerebral palsy into a poor, working-class Irish family. Able only to control movement in his left foot and to speak in guttural sounds, he is mistakenly believed to have a intellectual disability for the first ten years of his life.
Distribution :

Support : Fichier multimédia,
Emplacement : [Seagate Portable Drive]E:\FILMS\My Left Foot_ The Story of Christy Brown (1989) [1080p]\My.Left.Foot_.The.Story.of.Christy.Brown.1989.1080p.BluRay.x264.YIFY.mp4
Prêté : Non
Format image : Unknown