Network (1976)
Television will never be the same.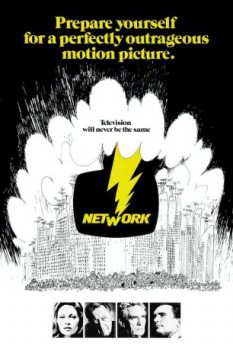 Evaluation TMDb :










7.9/10 (1137 votes)
Pays :Etats-Unis, 2hr 02min
Langues :Anglais
Genre(s) :Drame
Réalisateur(s) :Sidney Lumet
Codec vidéo :Unknown
Numéro : 132
Synopsis :
When veteran anchorman Howard Beale is forced to retire his 25-year post because of his age, he announces to viewers that he will kill himself during his farewell broadcast. Network executives rethink their decision when his fanatical tirade results in a spike in ratings.
Distribution :

Support : Fichier multimédia,
Emplacement : [Seagate Portable Drive]E:\FILMS\Network (1976) 720p BluRay.x264 SUJAIDR\Network (1976) 720p BluRay.x264 SUJAIDR.mkv
Prêté : Non
Format image : Unknown