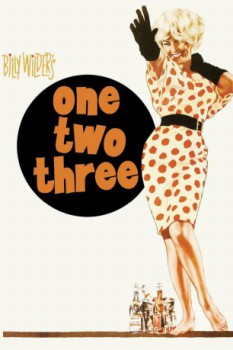 Evaluation TMDb :










7.7/10 (221 votes)
Pays :Etats-Unis, 1hr 55min
Langues :Allemand, Anglais, Russe
Genre(s) :Comédie, Familial
Réalisateur(s) :Billy Wilder
Codec vidéo :Unknown
Numéro : 137
Synopsis :
C.R. MacNamara will do anything to get a promotion within the Coca-Cola company, including looking after boss W.P. Hazeltine's rebellious teenage daughter, Scarlett. When Scarlett visits Berlin, where C.R. is stationed, she reveals that she is married to a communist named Otto Piffl -- and C.R. recognizes that Otto's anti-establishment stance will clash with his boss's own political views, possibly jeopardizing his promotion.
Distribution :

Support : Fichier multimédia,
Emplacement : [Seagate Portable Drive]E:\FILMS\One, Two, Three (1961) [BluRay] [1080p] [YTS.AM]\One,.Two,.Three.1961.1080p.BluRay.x264-[YTS.AM].mp4
Prêté : Non
Format image : Unknown