Rio Bravo (1959)
They fought back to back... No quarter given... No quarter asked... No way in... No way out... of Rio Bravo!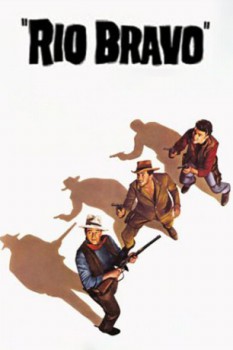 Evaluation TMDb :










7.9/10 (751 votes)
Pays :Etats-Unis, 2hr 21min
Langues :Anglais
Genre(s) :Western
Réalisateur(s) :Howard Hawks
Codec vidéo :Unknown
Numéro : 154
Synopsis :
The sheriff of a small town in southwest Texas must keep custody of a murderer whose brother, a powerful rancher, is trying to help him escape. After a friend is killed trying to muster support for him, he and his deputies - a disgraced drunk and a cantankerous old cripple - must find a way to hold out against the rancher's hired guns until the marshal arrives. In the meantime, matters are complicated by the presence of a young gunslinger - and a mysterious beauty who just came in on the last stagecoach.
Distribution :

Support : Fichier multimédia,
Emplacement : [Seagate Portable Drive]E:\FILMS\Rio Bravo (BDrip 720p ENG-ITA-FRE-GER-SPA AC3) x264 multisub blu-ray (1959).mkv
Prêté : Non
Format image : Unknown