Rubber (2010)
Are you TIRED of the expected?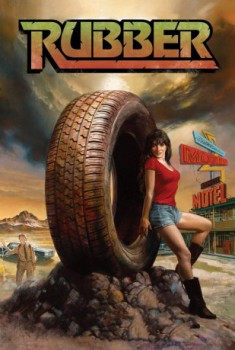 Evaluation TMDb :










6.0/10 (616 votes)
Pays :France, 1hr 25min
Langues :Anglais
Genre(s) :Comédie, Drame, Fantastique, Horreur, Mystère
Réalisateur(s) :Quentin Dupieux
Codec vidéo :Unknown
Numéro : 156
Synopsis :
A group of people gather in the California desert to watch a "film" set in the late 1990s featuring a sentient, homicidal car tire named Robert. The assembled crowd of onlookers watch as Robert becomes obsessed with a beautiful and mysterious woman and goes on a rampage through a desert town.
Distribution :

Support : Fichier multimédia,
Emplacement : [Seagate Portable Drive]E:\FILMS\Rubber (2010) (1080p BluRay x265 HEVC 10bit AAC 5.1 Tigole)\Rubber (2010) (1080p BluRay x265 10bit Tigole).mkv
Prêté : Non
Format image : Unknown