Spartacus (1960)
They trained him to kill for their pleasure ... but they trained him a little too well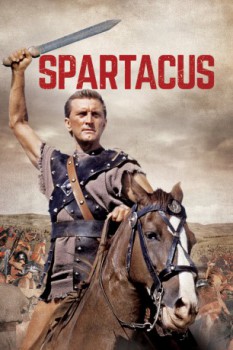 Evaluation TMDb :










7.5/10 (1470 votes)
Pays :Etats-Unis, 3hr 17min
Langues :Anglais
Genre(s) :Histoire, Guerre, Drame, Aventures
Réalisateur(s) :Stanley Kubrick
Codec vidéo :Unknown
Numéro : 170
Synopsis :
The rebellious Thracian Spartacus, born and raised a slave, is sold to Gladiator trainer Batiatus. After weeks of being trained to kill for the arena, Spartacus turns on his owners and leads the other slaves in rebellion. As the rebels move from town to town, their numbers swell as escaped slaves join their ranks. Under the leadership of Spartacus, they make their way to southern Italy, where they will cross the sea and return to their homes.
Distribution :

Support : Fichier multimédia,
Emplacement : [Seagate Portable Drive]E:\FILMS\Spartacus.1960.REMASTERED.1080p.BluRay.x265-RARBG\Spartacus.1960.REMASTERED.1080p.BluRay.x265-RARBG.mp4
Prêté : Non
Format image : Unknown