The Ballad of Narayama (1983)
Only Time Could Change the Cruelty of Tradition… Only Their Love Could Survive It…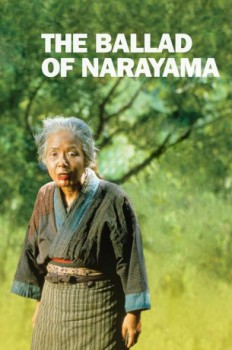 Evaluation TMDb :










7.3/10 (92 votes)
Autre titre :楢山節考 (Titre original)
Pays :Japon, 2hr 10min
Langues :Japonais
Genre(s) :Drame
Réalisateur(s) :Shōhei Imamura
Codec vidéo :Unknown
Numéro : 173
Synopsis :
In a small village in a valley everyone who reaches the age of 70 must leave the village and go to a certain mountain top to die. If anyone should refuse he/she would disgrace their family. Old Orin is 69. This winter it is her turn to go to the mountain. But first she must make sure that her eldest son Tatsuhei finds a wife.
Distribution :

Support : Fichier multimédia,
Emplacement : [Seagate Portable Drive]E:\FILMS\The Ballad Of Narayama (1983) [1080p] [BluRay] [YTS.MX]\The.Ballad.Of.Narayama.1983.1080p.BluRay.x264.AAC-[YTS.MX].mp4
Prêté : Non
Format image : Unknown