The Handmaiden (2016)
"My saviour who came to ruin my life. My Tamako, my Sookee."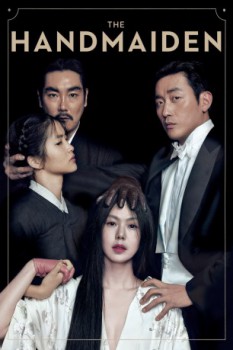 Evaluation TMDb :










8.3/10 (2320 votes)
Autre titre :아가씨 (Titre original)
Pays :Corée du Sud, 2hr 25min
Langues :Japonais, Coréen
Genre(s) :Suspense, Drame, Romantique
Réalisateur(s) :Park Chan-wook
Codec vidéo :Unknown
Numéro : 179
Synopsis :
1930s Korea, in the period of Japanese occupation, a young woman is hired as a handmaiden to a Japanese heiress who lives a secluded life on a large countryside estate with her domineering uncle, but she's involved in something greater that will soon be revealed.
Distribution :

Support : Fichier multimédia,
Emplacement : [Seagate Portable Drive]E:\FILMS\The Handmaiden (2016) [BluRay] [1080p] [YTS.AM]\The.Handmaiden.2016.1080p.BluRay.x264-[YTS.AM].mp4
Prêté : Non
Format image : Unknown