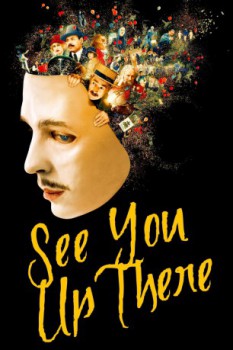 Evaluation TMDb :










7.9/10 (961 votes)
Autre titre :Au revoir là-haut (Titre original)
Pays :France, 1hr 53min
Langues :Chinois, Français, Allemand
Genre(s) :Drame, Policier, Guerre
Réalisateur(s) :Albert Dupontel
Codec vidéo :Unknown
Numéro : 18
Synopsis :
In November 1918, a few days before the Armistice, when Lieutenant Pradelle orders a senseless attack, he causes a useless disaster; but his outrageous act also binds the lives of two soldiers who have nothing more in common than the battlefield: Édouard saves Albert, although at a high cost. They become companions in misfortune who will attempt to survive in a changing world. Pradelle, in his own way, does the same.
Distribution :

Support : Fichier multimédia,
Emplacement : [Seagate Portable Drive]E:\FILMS\Au.Revoir.la.Haut.[See.You.Up.There].2017.1080p.BRRip.x264.AC3.EUROViSiON-ILUMiERE.mkv
Prêté : Non
Format image : Unknown