The Incredible Shrinking Man (1957)
A fascinating adventure into the unknown!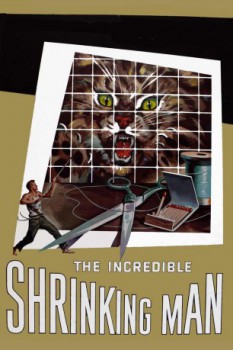 Evaluation TMDb :










7.4/10 (282 votes)
Pays :Etats-Unis, 1hr 21min
Langues :Anglais
Genre(s) :Drame, Science-fiction, Horreur
Réalisateur(s) :Jack Arnold
Codec vidéo :Unknown
Numéro : 181
Synopsis :
While on a boating trip, Scott Carey is exposed to a radioactive cloud. Nothing seems amiss at first, but several months later Scott realizes that he's shrunk in height by several inches. He sees a doctor, who admits that he's baffled. As Scott continues to shrink, decreasing to three feet tall, he becomes bitter, and lashes out at his wife, Louise. He begins to fear a cure will never be found -- since even as he becomes a national sensation, he's still shrinking.
Distribution :

Support : Fichier multimédia,
Emplacement : [Seagate Portable Drive]E:\FILMS\The Incredible Shrinking Man (1957) [1080p]\The.Incredible.Shrinking.Man.1957.1080p.BluRay.x264.YIFY.mp4
Prêté : Non
Format image : Unknown