The Terminator (1984)
Your future is in its hands.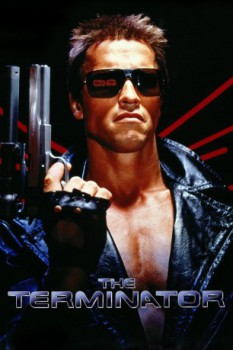 Evaluation TMDb :










7.6/10 (9542 votes)
Pays :Etats-Unis, 1hr 48min
Langues :Anglais
Genre(s) :Action, Suspense, Science-fiction
Réalisateur(s) :James Cameron
Codec vidéo :Unknown
Numéro : 190
Synopsis :
In the post-apocalyptic future, reigning tyrannical supercomputers teleport a cyborg assassin known as the "Terminator" back to 1984 to kill Sarah Connor, whose unborn son is destined to lead insurgents against 21st century mechanical hegemony. Meanwhile, the human-resistance movement dispatches a lone warrior to safeguard Sarah. Can he stop the virtually indestructible killing machine?
Distribution :

Support : Fichier multimédia,
Emplacement : [Seagate Portable Drive]E:\FILMS\The Terminator (1984) [1080p]\The.Terminator.1984.1080p.BRrip.x264.GAZ.YIFY.mp4
Prêté : Non
Format image : Unknown