The Apartment (1960)
Movie-wise, there has never been anything like it - laugh-wise, love-wise, or otherwise-wise!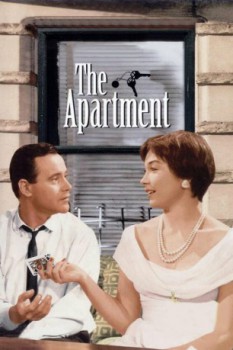 Evaluation TMDb :










8.2/10 (1490 votes)
Pays :Etats-Unis, 2hr 05min
Langues :Anglais
Genre(s) :Comédie, Drame, Romantique
Réalisateur(s) :Billy Wilder
Codec vidéo :Unknown
Numéro : 193
Synopsis :
Bud Baxter is a minor clerk in a huge New York insurance company, until he discovers a quick way to climb the corporate ladder. He lends out his apartment to the executives as a place to take their mistresses. Although he often has to deal with the aftermath of their visits, one night he's left with a major problem to solve.
Distribution :

Support : Fichier multimédia,
Emplacement : [Seagate Portable Drive]E:\FILMS\The.Apartment.1960.720p.BRRip.x264-x0r\The.Apartment.1960.720p.BRRip.x264-x0r.mkv
Prêté : Non
Format image : Unknown