Back to the Future Part II (1989)
Roads? Where we're going, we don't need roads!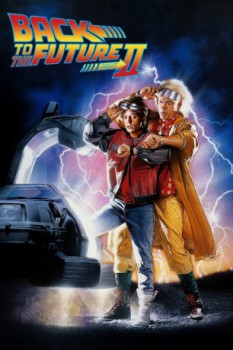 Evaluation TMDb :










7.7/10 (9741 votes)
Pays :Etats-Unis, 1hr 48min
Langues :Anglais
Genre(s) :Aventures, Comédie, Familial, Science-fiction
Réalisateur(s) :Robert Zemeckis
Codec vidéo :Unknown
Numéro : 20
Synopsis :
Marty and Doc are at it again in this wacky sequel to the 1985 blockbuster as the time-traveling duo head to 2015 to nip some McFly family woes in the bud. But things go awry thanks to bully Biff Tannen and a pesky sports almanac. In a last-ditch attempt to set things straight, Marty finds himself bound for 1955 and face to face with his teenage parents -- again.
Distribution :

Support : Fichier multimédia,
Emplacement : [Seagate Portable Drive]E:\FILMS\Back to the Future Part 2 (1989) [1080p]\Back.to.the.Future.Part.2.1989.1080p.Brrip.x264.Deceit.YIFY.mp4
Prêté : Non
Format image : Unknown