The Man Who Wasn't There (2001)
The more you see, the less you really know.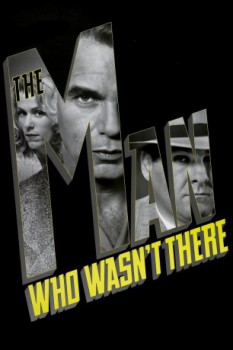 Evaluation TMDb :










7.6/10 (1114 votes)
Pays :Royaume-Uni, 1hr 56min
Langues :Français, Anglais, Italien
Genre(s) :Policier, Suspense
Réalisateur(s) :Joel Coen
Codec vidéo :Unknown
Numéro : 201
Synopsis :
A tale of murder, crime and punishment set in the summer of 1949. Ed Crane, a barber in a small California town, is dissatisfied with his life, but his wife Doris' infidelity and a mysterious opportunity presents him with a chance to change it.
Distribution :

Support : Fichier multimédia,
Emplacement : [Seagate Portable Drive]E:\FILMS\The.Man.Who.Wasnt.There.2001.1080p.BluRay.x264.AAC.5.1-POOP\The.Man.Who.Wasnt.There.2001.1080p.BluRay.x264.AAC.5.1-POOP.mp4
Prêté : Non
Format image : Unknown