The New One-Armed Swordsman (1971)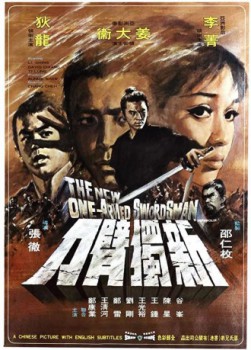 Evaluation TMDb :










6.7/10 (43 votes)
Autre titre :新獨臂刀 (Titre original)
Pays :HK, 1hr 42min
Langues :Chinois
Genre(s) :Action, Drame, Histoire, Guerre
Réalisateur(s) :Chang Cheh
Codec vidéo :Unknown
Numéro : 204
Synopsis :
Lei Li lost his right-arm in a sword duel with the master of a martial arts school, long ago. Now, he is able to defend himself well with just his left arm, and kung fu techniques. That he proves with just the help of his friend Chung-Chieng, when he crosses his path with a beautiful girl in need, Pao Chiao. Even against impossible odds, he will prove a great warrior.
Distribution :

Support : Fichier multimédia,
Emplacement : [Seagate Portable Drive]E:\FILMS\The.New.One-Armed.Swordsman.1971.CHINESE.1080p.BluRay.H264.AAC-VXT\The.New.One-Armed.Swordsman.1971.CHINESE.1080p.BluRay.H264.AAC-VXT.mp4
Prêté : Non
Format image : Unknown