A Special Day (1977)
A special film about two special people.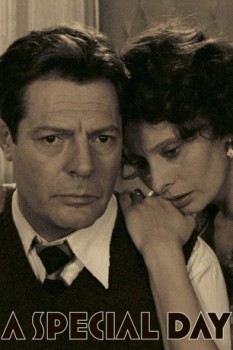 Evaluation TMDb :










8.2/10 (442 votes)
Autre titre :Una giornata particolare (Titre original)
Pays :Italie, 1hr 46min
Langues :Italien
Genre(s) :Drame, Romantique
Réalisateur(s) :Ettore Scola
Codec vidéo :Unknown
Numéro : 218
Synopsis :
The film is set during the late 1930s: the occasion is the first meeting between Mussolini and Hitler. Left alone in her tenement home when her fascist husband runs off to attend the historic event, Antonietta strikes up a friendship with her neighbor Gabriele. As the day segues into night, Antonietta and Gabriele develop a very special relationship that will radically alter both of their outlooks on life.
Distribution :

Support : Fichier multimédia,
Emplacement : [Seagate Portable Drive]E:\FILMS\Una Giornata Particolare DVD-rip\Una Giornata Particolare.mp4
Prêté : Non
Format image : Unknown