This is how I win.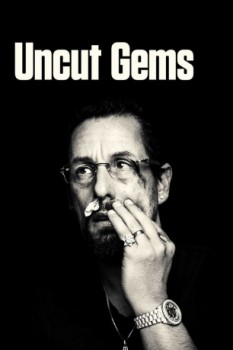 Evaluation TMDb :










7.1/10 (3084 votes)
Pays :Etats-Unis, 2hr 16min
Langues :Anglais
Genre(s) :Policier, Suspense, Drame
Réalisateur(s) :Josh Safdie, Benny Safdie
Codec vidéo :Unknown
Numéro : 219
Synopsis :
A charismatic New York City jeweler always on the lookout for the next big score makes a series of high-stakes bets that could lead to the windfall of a lifetime. Howard must perform a precarious high-wire act, balancing business, family, and encroaching adversaries on all sides in his relentless pursuit of the ultimate win.
Distribution :

Support : Fichier multimédia,
Emplacement : [Seagate Portable Drive]E:\FILMS\Uncut Gems (2019) [1080p] [BluRay] [5.1] [YTS.MX]\Uncut.Gems.2019.1080p.BluRay.x264.AAC5.1-[YTS.MX].mp4
Prêté : Non
Format image : Unknown