Kill Bill: Vol. 2 (2004)
The bride is back for the final cut.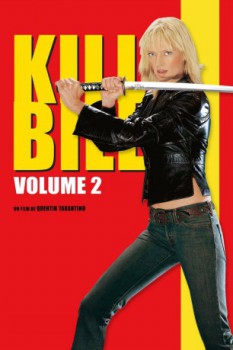 Evaluation TMDb :










7.9/10 (10753 votes)
Pays :Etats-Unis, 2hr 16min
Langues :Anglais, Chinois, Espagnol
Genre(s) :Action, Policier, Suspense
Réalisateur(s) :Quentin Tarantino
Codec vidéo :Unknown
Numéro : 238
Synopsis :
Après s'être débarrassée de ses anciennes collègues Vernita Green et O‐Ren Ishii, la Mariée poursuit sa quête vengeresse. Il lui reste à régler le sort de Budd puis de Elle Driver avant d'atteindre le but ultime : tuer Bill.
Distribution :

Support : Fichier multimédia,
Emplacement : [Seagate Portable Drive]E:\FILMS\Kill.Bill.Duology.1080p.BluRay.AC3.x264-ETRG\Kill.Bill.Volume.2.2004.1080p.BluRay.AC3.x264-ETRG\Kill.Bill.Volume.2.2004.1080p.BluRay.AC3.sample.mkv
Prêté : Non
Format image : Unknown