Ace in the Hole (1951)
Rough, tough Chuck Tatum, who battered his way to the top... trampling everything in his path - men, women and morals !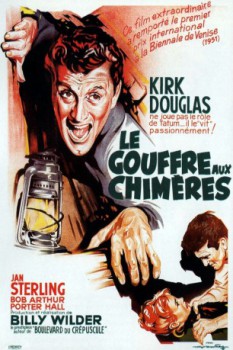 Evaluation TMDb :










7.9/10 (402 votes)
Pays :Etats-Unis, 1hr 51min
Langues :Espagnol, Anglais
Genre(s) :Drame
Réalisateur(s) :Billy Wilder
Codec vidéo :Unknown
Numéro : 251
Synopsis :
Charles Tatum, journaliste sans scrupules, va exploiter un scoop. Au Nouveau-Mexique, Leo Minosa, un Indien, est coincé au fond d'une galerie effondrée. S'arrangeant pour être le seul journaliste sur le coup, Tatum va persuader le shérif de choisir la formule de sauvetage la plus lente. Tatum va devenir l'amant de la femme de la victime et poussera l'hypocrisie jusqu'à devenir l'ami de Leo.
Distribution :

Support : Fichier multimédia,
Emplacement : [Seagate Portable Drive]E:\FILMS\Ace.in.the.Hole.1951.1080p.BluRay.H264.AAC-RARBG\Ace.in.the.Hole.1951.1080p.BluRay.H264.AAC-RARBG.mp4
Prêté : Non
Format image : Unknown