Advise & Consent (1962)
Are the men and women of Washington really like this?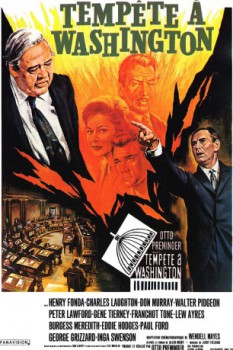 Evaluation TMDb :










7.5/10 (59 votes)
Pays :Etats-Unis, 2hr 19min
Langues :Anglais
Genre(s) :Drame
Réalisateur(s) :Otto Preminger
Codec vidéo :Unknown
Numéro : 252
Synopsis :
Le président des États-Unis a décidé de nommer Robert A. Leffingwell au poste de secrétaire d'État. Se sachant malade, le président souhaite confier le département d'État à un homme qui assurera la continuité de sa politique étrangère, ce en quoi il n'a qu'une confiance limitée dans son vice-président. Mais la nomination de Leffingwell est soumise au vote du Sénat. L'affaire sera difficile...
Distribution :

Support : Fichier multimédia,
Emplacement : [Seagate Portable Drive]E:\FILMS\Advise.and.Consent.1962.720p.HDTV.x264-REGRET[rarbg]\advise.and.consent.1962.720p.hdtv.x264-regret.mkv
Prêté : Non
Format image : Unknown