Dreams (1990)
The past, present, and future. The thoughts and images of one man... for all men. One man's dreams... for every dreamer.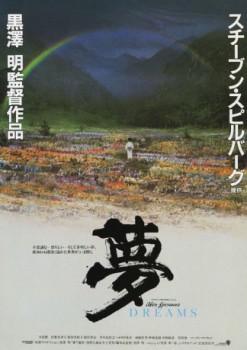 Evaluation IMDb :










7.8/10 (24695 votes)
Autre titre :Yume (Titre original)
Pays :Japon, 1hr 59min
Langues :Anglais, Français, Japonais
Genre(s) :Drame, Fantastique
Réalisateur(s) :Akira Kurosawa, Ishirô Honda
Codec vidéo :Unknown
Numéro : 256
Synopsis :
This is essentially eight separate short films, though with some overlaps in terms of characters and thematic material - chiefly that of man's relationship with his environment. 'Sunshine Through The Rain': a young boy is told not to go out on the day when both weather conditions occur, because that's when the foxes hold their wedding procession, which could have fatal consequences for those who witness it. 'The Peach Orchard': the same young boy encounters the spirits of the peach trees that have been cut down by heartless humans. 'The Blizzard': a team of mountaineers are saved from a blizzard by spiritual intervention. 'The Tunnel': a man encounters the ghosts of an army platoon, whose deaths he was responsible for. 'Crows': an art student encounters 'Vincent Van Gogh' and enters the world of his paintings. 'Mount Fuji in Red': nuclear meltdown threatens the devastation of Japan. 'The Weeping Demon': a portrait of a post-nuclear world populated by human mutations. 'Village of the Watermills': a sunny portrait of a village whose population is entirely at one with nature.
Distribution :

Support : Fichier multimédia,
Emplacement : [Seagate Portable Drive]E:\FILMS\Akira Kurosawa ~collection~\Dreams (1990)\Dreams.mp4
Prêté : Non
Format image : Unknown