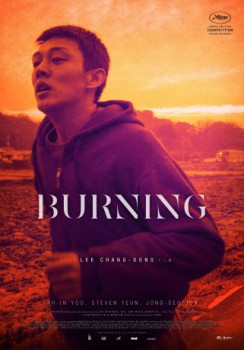 Evaluation IMDb :










7.5/10 (54343 votes)
Autre titre :Beoning (Titre original)
Pays :Corée du Sud, 2hr 28min
Langues :Anglais, Coréen
Genre(s) :Drame, Mystère
Réalisateur(s) :Chang-dong Lee
Codec vidéo :Unknown
Numéro : 306
Synopsis :
Deliveryman Jongsu is out on a job when he runs into Haemi, a girl who once lived in his neighbourhood. She asks if he'd mind looking after her cat while she's away on a trip to Africa. On her return, she introduces to Jongsu an enigmatic young man named Ben, who she met during her trip. One day Ben tells Jongsu about his most unusual hobby.
Distribution :

Support : Fichier multimédia,
Emplacement : [Seagate Portable Drive]E:\FILMS\Burning.2018.720p.WEB-DL.MkvCage.ws.mkv
Prêté : Non
Format image : Unknown