The Man Who Knew Infinity (2016)
What does it take to prove the impossible?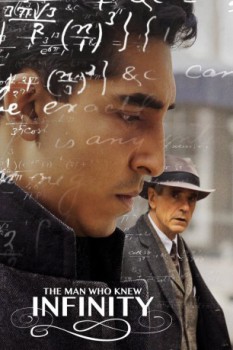 Evaluation TMDb :










7.1/10 (1048 votes)
Pays :Etats-Unis, 1hr 48min
Langues :Anglais
Genre(s) :Drame
Réalisateur(s) :Matt Brown
Codec vidéo :Unknown
Numéro : 32
Synopsis :
Growing up poor in Madras, India, Srinivasa Ramanujan Iyengar earns admittance to Cambridge University during WWI, where he becomes a pioneer in mathematical theories with the guidance of his professor, G.H. Hardy.
Distribution :

Support : Fichier multimédia,
Emplacement : [Seagate Portable Drive]E:\FILMS\Biopics et sciences\The.Man.Who.Knew.Infinity.2015.1080p.BluRay.x264.AAC.5.1-POOP\The.Man.Who.Knew.Infinity.2015.1080p.BluRay.x264.AAC.5.1-POOP.mp4
Prêté : Non
Format image : Unknown