Strangers on a Train (1951)
It starts with a shriek of a train whistle... and ends with shrieking excitement!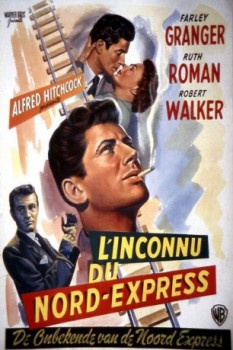 Evaluation TMDb :










7.7/10 (1101 votes)
Pays :Etats-Unis, 1hr 41min
Langues :Français, Anglais
Genre(s) :Policier, Suspense
Réalisateur(s) :Alfred Hitchcock
Codec vidéo :Unknown
Numéro : 347
Synopsis :
Un champion de tennis est abordé dans un train par un inconnu qui lui propose un étrange marché : il supprime sa femme encombrante si celui-ci se charge d'éliminer son propre père. Croyant avoir à faire à un fou, le tennisman ne lui prête aucune attention. Peu de temps après, sa femme est assassinée...
Distribution :

Support : Fichier multimédia,
Emplacement : [Seagate Portable Drive]E:\FILMS\Hitchcock\Alfred.Hitchcock.Bluray.Collection.2014.Vol.1.576p.AC3.x264-GCJM\Strangers.on.a.Train.1951.576p.Bluray.AC3.x264-GCJM.mkv
Prêté : Non
Format image : Unknown