Laura (1944)
The story of a love that became the most fearful thing that ever happened to a woman!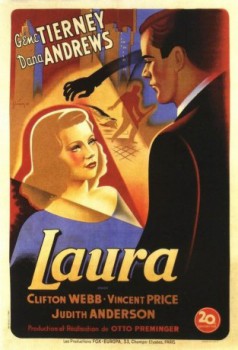 Evaluation TMDb :










7.7/10 (507 votes)
Pays :Etats-Unis, 1hr 28min
Langues :Anglais
Genre(s) :Drame, Mystère
Réalisateur(s) :Otto Preminger
Codec vidéo :Unknown
Numéro : 396
Synopsis :
Qui a tué Laura Hunt, une ravissante jeune femme qui doit une partie de sa notoriété au chroniqueur Waldo Lydecker ? L'inspecteur Mark McPherson mène l'enquête et interroge notamment Lydecker, qui considère Laura non seulement comme sa création, mais aussi comme un être lui appartenant.
Distribution :

Support : Fichier multimédia,
Emplacement : [Seagate Portable Drive]E:\FILMS\Laura.1944.720p.BluRay.x264-HD4U\laura.1944.720p.bluray.x264-hd4u.mkv
Prêté : Non
Format image : Unknown