Out of the Past (1947)
A MAN - Trying to run away from his past... A WOMAN - Trying to escape her future...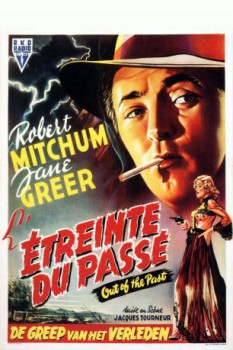 Evaluation TMDb :










7.7/10 (336 votes)
Pays :Etats-Unis, 1hr 37min
Langues :Anglais
Genre(s) :Suspense, Drame, Policier, Romantique
Réalisateur(s) :Jacques Tourneur
Codec vidéo :Unknown
Numéro : 413
Synopsis :
Jeff Bailey, un détective privé, est engagé par Sterling, un joueur professionnel, pour rechercher sa complice Kathie qui l'a trahi. Mais lorsque Bailey la retrouve, il en tombe amoureux...
Distribution :

Support : Fichier multimédia,
Emplacement : [Seagate Portable Drive]E:\FILMS\Out.of.the.Past.1947.1080p.BluRay.H264.AAC-RARBG\Out.of.the.Past.1947.1080p.BluRay.H264.AAC-RARBG.mp4
Prêté : Non
Format image : Unknown