Chinatown (1974)
You get tough. You get tender. You get close to each other. Maybe you even get close to the truth.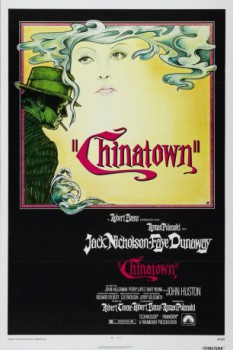 Evaluation TMDb :










7.9/10 (2646 votes)
Pays :Etats-Unis, 2hr 10min
Langues :Espagnol, Anglais
Genre(s) :Policier, Drame, Mystère, Suspense
Réalisateur(s) :Roman Polanski
Codec vidéo :Unknown
Numéro : 44
Synopsis :
Private eye Jake Gittes lives off of the murky moral climate of sunbaked, pre-World War II Southern California. Hired by a beautiful socialite to investigate her husband's extra-marital affair, Gittes is swept into a maelstrom of double dealings and deadly deceits, uncovering a web of personal and political scandals that come crashing together.
Distribution :

Support : Fichier multimédia,
Emplacement : [Seagate Portable Drive]E:\FILMS\Chinatown.1974.1080p.BluRay.x265-RARBG\Chinatown.1974.1080p.BluRay.x265-RARBG.mp4
Prêté : Non
Format image : Unknown