The Big Sleep (1946)
The picture they were born for!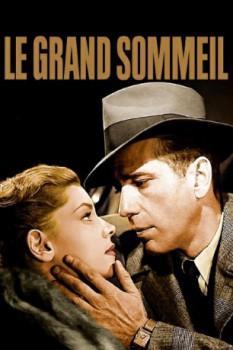 Evaluation TMDb :










7.7/10 (681 votes)
Pays :Etats-Unis, 1hr 56min
Langues :Anglais
Genre(s) :Policier, Mystère, Suspense
Réalisateur(s) :Howard Hawks
Codec vidéo :Unknown
Numéro : 453
Synopsis :
Le général Sternwood engage le détective privé Philip Marlowe pour régler une affaire de chantage dont il est victime. Un dénommé Geiger possèderait des photos compromettantes de sa fille cadette, Carmen. Mais Marlowe découvre que le maître chanteur a été assassiné. Rapidement, les cadavres s'accumulent et l'intrigue se complique. De nombreux personnage entrent en scène, dont Vivian, la sœur aînée de Carmen.
Distribution :

Support : Fichier multimédia,
Emplacement : [Seagate Portable Drive]E:\FILMS\The Big Sleep (1946)\The Big Sleep.avi
Prêté : Non
Format image : Unknown