Madame de… (1953)
It was her vanity that destroyed her.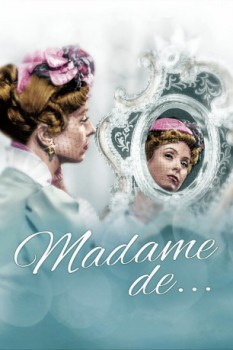 Evaluation TMDb :










7.7/10 (139 votes)
Autre titre :The Earrings of Madame de...
Pays :France, 1hr 45min
Langues :Français
Genre(s) :Drame, Romantique
Réalisateur(s) :Max Ophüls
Codec vidéo :Unknown
Numéro : 457
Synopsis :
Pour payer une dette de jeu, Madame de... vend les boucles d'oreilles en forme de cœur que son mari lui a offertes. Quelque temps plus tard, le baron Donati dont elle est amoureuse lui fait cadeau des mêmes boucles d'oreilles.
Distribution :

Support : Fichier multimédia,
Emplacement : [Seagate Portable Drive]E:\FILMS\The Earrings of Madame De... Criterion, Max Ophuls, 1953\The Earrings of Madame De... Criterion, Max Ophuls, 1953.avi
Prêté : Non
Format image : Unknown