The Treasure of the Sierra Madre (1948)
The nearer they get to their treasure, the farther they get from the law.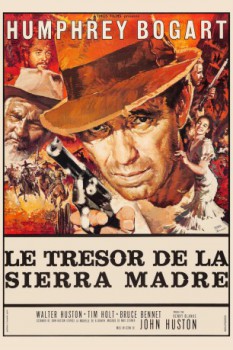 Evaluation TMDb :










8.0/10 (758 votes)
Pays :Etats-Unis, 2hr 06min
Langues :Anglais
Genre(s) :Drame, Aventures, Western
Réalisateur(s) :John Huston
Codec vidéo :Unknown
Numéro : 466
Synopsis :
Dobbs et Curtis travaillent sur un chantier dont le chef part avec le salaire des ouvriers. Ils partent à sa recherche et récupèrent leur argent. Puis ils s'associent avec le vieil Howard pour exploiter un filon d'or dans la Sierra Madre.
Distribution :

Support : Fichier multimédia,
Emplacement : [Seagate Portable Drive]E:\FILMS\The Treasure of the Sierra Madre 1948 1080p BluRay x264 AAC - Ozlem\The Treasure of the Sierra Madre 1948 1080p BluRay x264 AAC - Ozlem.mp4
Prêté : Non
Format image : Unknown