The Night of the Hunter (1955)
La nuit de noces, l'anticipation, le baiser, le couteau, MAIS SURTOUT...LE SUSPENSE !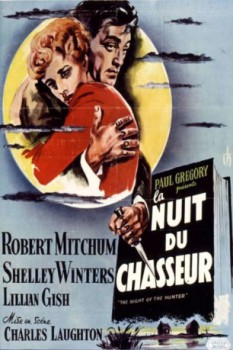 Evaluation TMDb :










7.9/10 (1043 votes)
Pays :Etats-Unis, 1hr 33min
Langues :Anglais
Genre(s) :Policier, Drame, Suspense
Réalisateur(s) :Charles Laughton
Codec vidéo :Unknown
Numéro : 475
Synopsis :
Au cœur des années 30, deux enfants, John et Pearl, sont pourchassés par un tueur en série, dissimulé en société sous des faux airs de prêcheur bienveillant. L'objet de la traque : la rumeur d'un pactole de 10 000 dollars bien mal acquis par le père des enfants, et dont ces derniers ont le secret de la localisation.
Distribution :

Support : Fichier multimédia,
Emplacement : [Seagate Portable Drive]E:\FILMS\The.Night.Of.The.Hunter.1955.720p.BRRip.x264-x0r\The.Night.Of.The.Hunter.1955.720p.BRRip.x264-x0r.mkv
Prêté : Non
Format image : Unknown