Watch what happens to the women... watch the west explode!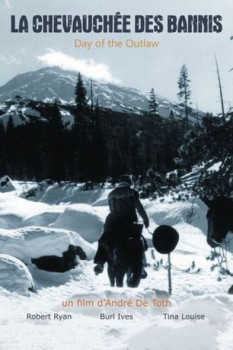 Evaluation TMDb :










6.6/10 (50 votes)
Pays :Etats-Unis, 1hr 32min
Langues :Anglais
Genre(s) :Suspense, Western
Réalisateur(s) :André De Toth
Codec vidéo :Unknown
Numéro : 501
Synopsis :
Dans un village montagneux du Wyoming, enfoncé dans la neige, l'éleveur Blaise Starret s'oppose farouchement à des fermiers, dont l'un d'eux a épousé son ancienne compagne Helen. L'arrivée soudaine de sept bandits, commandés par un certain Jack Bruhn, quémandant secours, à la suite d'une blessure, fait taire les hostilités et contraint fermiers et éleveurs à s'unir contre le danger. Blaise Starret imagine un piège susceptible d'égarer Jack Bruhn et ses hors-la-loi indésirables...
Distribution :

Support : Fichier multimédia,
Emplacement : [Seagate Portable Drive]E:\FILMS\Day.Of.The.Outlaw.1959.1080p.BluRay.H264.AAC-RARBG\Day.Of.The.Outlaw.1959.1080p.BluRay.H264.AAC-RARBG.mp4
Prêté : Non
Format image : Unknown