The Good, the Bad and the Ugly (1966)
Pour trois hommes, la guerre civile n'était pas un enfer. C'était de la pratique.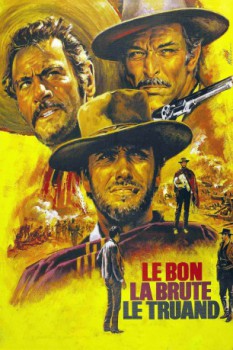 Evaluation TMDb :










8.5/10 (5999 votes)
Autre titre :Il buono, il brutto, il cattivo (Titre original)
Pays :Etats-Unis, 2hr 41min
Langues :Italien
Genre(s) :Western
Réalisateur(s) :Sergio Leone
Codec vidéo :Unknown
Numéro : 514
Synopsis :
Pendant la Guerre de Sécession, Tuco et Joe se lancent à la recherche d'un coffre contenant 200 000 dollars en pièces d'or volés à l'armée sudiste. Ayant des indices complémentaires sur la cache, chacun a besoin de l'autre. Mais un troisième homme entre dans la course : Sentenza, un tueur qui ne recule devant rien pour parvenir à ses fins.
Distribution :

Support : Fichier multimédia,
Emplacement : [Seagate Portable Drive]E:\FILMS\Il.Buono.Il.Brutto.Il.Cattivo.1966.ITA.ENG.BDRip.720p.x264-Fratposa.mkv
Prêté : Non
Format image : Unknown