Die Hard: With a Vengeance (1995)
Think fast. Look alive. Die hard.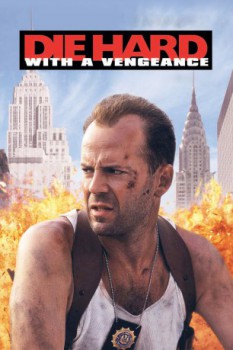 Evaluation TMDb :










7.2/10 (4555 votes)
Pays :Etats-Unis, 2hr 08min
Langues :Anglais, Allemand, Roumain
Genre(s) :Action, Suspense
Réalisateur(s) :John McTiernan
Codec vidéo :Unknown
Numéro : 57
Synopsis :
New York detective John McClane is back and kicking bad-guy butt in the third installment of this action-packed series, which finds him teaming with civilian Zeus Carver to prevent the loss of innocent lives. McClane thought he'd seen it all, until a genius named Simon engages McClane, his new "partner" -- and his beloved city -- in a deadly game that demands their concentration.
Distribution :

Support : Fichier multimédia,
Emplacement : [Seagate Portable Drive]E:\FILMS\Die.Hard.3.1995.1080p.BluRay.H264.AAC-RARBG\Die.Hard.3.1995.1080p.BluRay.H264.AAC-RARBG.mp4
Prêté : Non
Format image : Unknown