Get Out (2017)
Just because you're invited, doesn't mean you're welcome.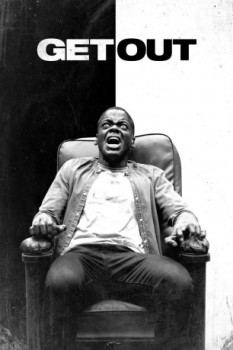 Evaluation TMDb :










7.6/10 (12975 votes)
Pays :Etats-Unis, 1hr 44min
Langues :Anglais
Genre(s) :Mystère, Suspense, Horreur
Réalisateur(s) :Jordan Peele
Codec vidéo :Unknown
Numéro : 73
Synopsis :
Chris and his girlfriend Rose go upstate to visit her parents for the weekend. At first, Chris reads the family's overly accommodating behavior as nervous attempts to deal with their daughter's interracial relationship, but as the weekend progresses, a series of increasingly disturbing discoveries lead him to a truth that he never could have imagined.
Distribution :

Support : Fichier multimédia,
Emplacement : [Seagate Portable Drive]E:\FILMS\Get Out (2017) [1080p] [YTS.AG]\Get.Out.2017.1080p.BluRay.x264-[YTS.AG].mp4
Prêté : Non
Format image : Unknown