Kiss Me Deadly (1955)
Blood red kisses! White hot thrills! Mickey Spillane's latest H-bomb!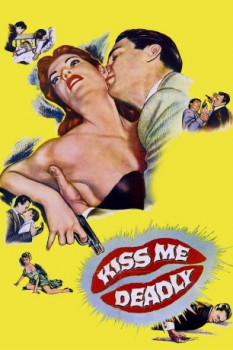 Evaluation TMDb :










7.2/10 (235 votes)
Pays :Etats-Unis, 1hr 46min
Langues :Anglais
Genre(s) :Mystère, Suspense
Réalisateur(s) :Robert Aldrich
Codec vidéo :Unknown
Numéro : 102
Synopsis :
One evening, Hammer gives a ride to Christina, an attractive hitchhiker on a lonely country road, who has escaped from the nearby lunatic asylum. Thugs waylay them and force his car to crash. When Hammer returns to semi-consciousness, he hears Christina being tortured until she dies. Hammer, both for vengeance and in hopes that "something big" is behind it all, decides to pursue the case.
Distribution :

Support : Fichier multimédia,
Emplacement : [Seagate Portable Drive]E:\FILMS\Kiss.Me.Deadly.1955.(Film.Noir).1080p.BRRip.x264-Classics\Kiss.Me.Deadly.1955.(Film.Noir).1080p.BRRip.x264-Classics.mkv
Prêté : Non
Format image : Unknown